ISWI Newsletter - Vol.5 No.31
10 March 2013
Dear ISWI Participant:
There are two items today: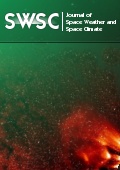 Item 1 This is a new journal: "Journal of Space Weather and Space Climate" http://www.swsc-journal.org Check it out ! Congratulations to Dr. Ayman M. Mahrous (Helwan University, Space Weather Monitoring Center, Egypt) for being a member of its Advisory Board. Also, congratulations to Prof. Ashot Chilingarian (Yerevan Physics Institute, Armenia) for being a member of its Editorial Board.
[Sorry, cannot congratulate all the members here.]
Journal of Space Weather and Space Climate
Editors-in-Chief: Anna Belehaki and Jean Lilensten
ISSN (Electronic Edition): 2115-7251


published by: EDP Sciences
Item 2 Attached is a news item from "NASA Science News". It covers the recent STSC COPUOS gathering in Vienna.
Cordially yours,
George Maeda
Editor of ISWI Newsletter
---
Attachments:
(1) Dr. Tony Phillips The UN Braces for Stormy Space Weather published in NASA Science, Science News http://science.nasa.gov/science-news/science-at-nasa/2013/13feb_copuos/ 668 KB pdf, 2 pages, (

)
If you want to read the original newsletter, click here.