Dear ISWI Participant:
*** This is the inaugural issue of the ISWI Newsletter. ***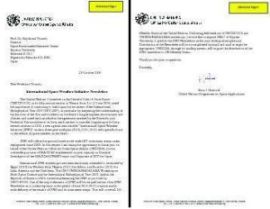 It is scheduled to be published throughout the ISWI period, 2010 through 2012, by SERC (Space Environment Research Center) of Kyushu University, Japan. The publisher is Professor K. Yumoto (also Director of SERC) and the editor is George Maeda, who is a member of his SERC staff. This newsletter was requested by Prof. Hans Haubold (United Nations Program on Space Applications) -- (click here). His letter is a beautifully concise statement about the mission of ISWI - where it came from and where it is to go.
Above all, ISWI builds upon the achievements of IHY and therefore ISWI is not "something out of the blue". During IHY, much new instrumentation and many more data acquisition facilities were deployed throughout the developing world, which in the past was often neglected by the space science community. Now, through IHY and ISWI, we can rectify that situation. And everyone benefits. Scientists in developing nations have a chance to access things (e.g., tools, data, knowledge, technology, conferences, personal contacts) that scientists elsewhere take for granted. On the other hand, scientists in developed nations have a chance to locate instruments in places where ground-based observation is needed but has been up until now inaccessible for one reason or another.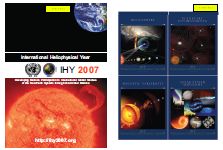 Half of the effort that went into the IHY mission (and that will go into the ISWI) is creating "global awareness" of this international scientific program. Please click here or on the image to the left to see the promotional material that was created for IHY. The color plates (Page 4 of the Newsletter, click here) were full-size wall posters, which some of you have in your offices.
This email newsletter is also part of the awareness-generating effort. In lieu of an "ISWI Radio Station", it is hoped that we can get out a wide variety of messages to the ISWI community using this Internet vehicle. As editor, I welcome your contributions to the newsletter. Please send to (G. Maeda, editor) or to (K. Yumoto, publisher), or to both. This newsletter belongs to all ISWI participants.
Independently managed from the ISWI Newsletter is the ISWI website. You are on this site
As the conclusion to this inaugural issue of the ISWI Newsletter, I bring your attention to the ISWI Logo Contest. Please give it your utmost and earnest consideration. Winner gets 400USD and the deadline is the end of this month. Details are at the ISWI website (click here) --- please forward the details to any person who might have a talent at logo design.
This email newsletter is distributed using a commercial system, which allows persons to subscribe and un-subscribe without human intervention. (Look at manage subscription below.)
Best regards,
George Maeda
Editor-in-Chief, ISWI Newsletter
Fukuoka, Japan.
---